Hampshire brides were in for a real treat today if they visited the Four Seasons Wedding Showcase.
A truly stunning affair organised by Emma Westacott at this imposing luxury Manor House.
The long approach down a picturesque, winding drive, is not disappointing as the manor house lays before you majestically, even as I arrived early afternoon and the winter sun had disappeared I was even more excited to be visiting this venue, surprisingly for the 1st time. Despite the chilling winds and grey skies it look amazing.
I had heard many good things and enjoy Four Seasons social media posts but hadn't had the opportunity to work or visit the hotel..which is criminal on my part!
Paula Rooney Weddings & Events had triggered my visit, intrigued by the advertising of the showcase then hearing my friend and colleague would be showcasing herself I decided I must drop in to at least visit her wonderful display.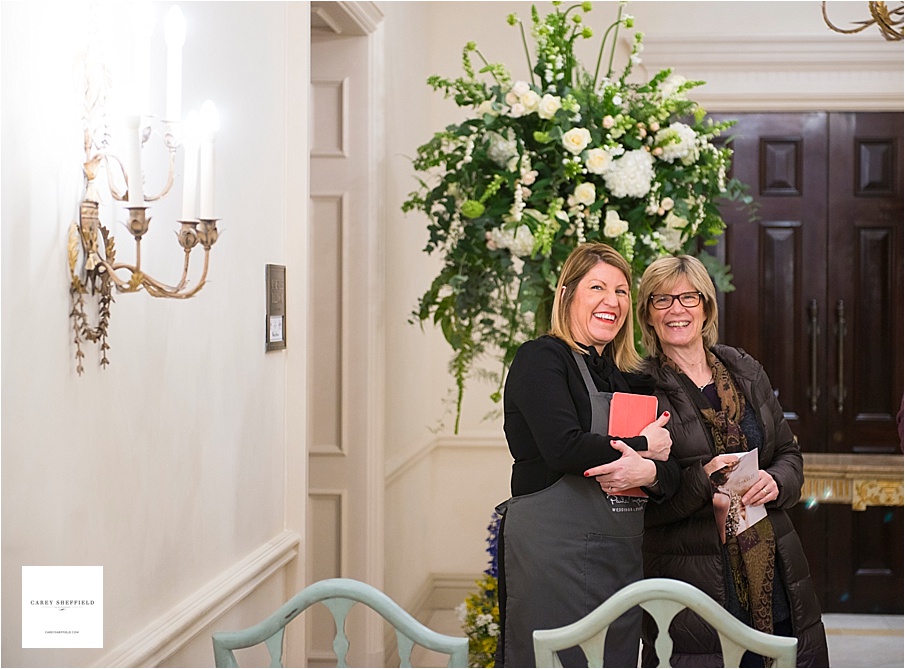 I have attended many a wedding fair and even exhibited at a few but none hold a candle to this event.  The doorman greeted us with genuine hospitality and we were shown directly to the location of the showcase.  The long, light & white candlelit walkway was enticing and had something of the feel of Narnia about it today..the florist, new to me, Zita Elze had decorated this area beautifully and the approach looked quite magical.
A second display greeted us by Zita Elze which was equally stunning along with glasses of champagne, cocktails & canapés.  This really is an event that Brides must put on their calendar, the hospitality was fabulous.
My first port of call was to visit Paula.  Her display stood grandly in the main hallway and was unsurprisingly beautiful.  Classic and fragrant and positively charming..which describes Paula to a tee too!  I love her work and am unashamedly one of her biggest fans.  A truly dedicated artist but with the nicest personality, the first florist I recommend and one I use myself when she isn't booked up! Which happens fast with her so make sure you contact her as soon as possible for your wedding flowers, event displays or home arrangements you won't be disappointed.
Where to go next?  Off of the corridor were many rooms each enticing you in with the scents, music and beautiful displays.
Ordinarily I am not a fan of balloons at weddings..way back when I was planning weddings and doing floristry I would turn and run if a bride asked for balloons..you know what I mean, 3 balloons & a weight on each table!  But today I met Bubblegum balloons..my mind has been changed.  Not only did they have those fabulous huge round balloons..bigger is always best after all, they also had gorgeous balloons with tissue paper trails and clear balloons filled with gorgeous hand cut tissue paper shapes..I was so tempted to get a pin out and create a loud bang and explosion of tissue confetti!  Now thinking about what event I can justify buying a few of these pretty displays!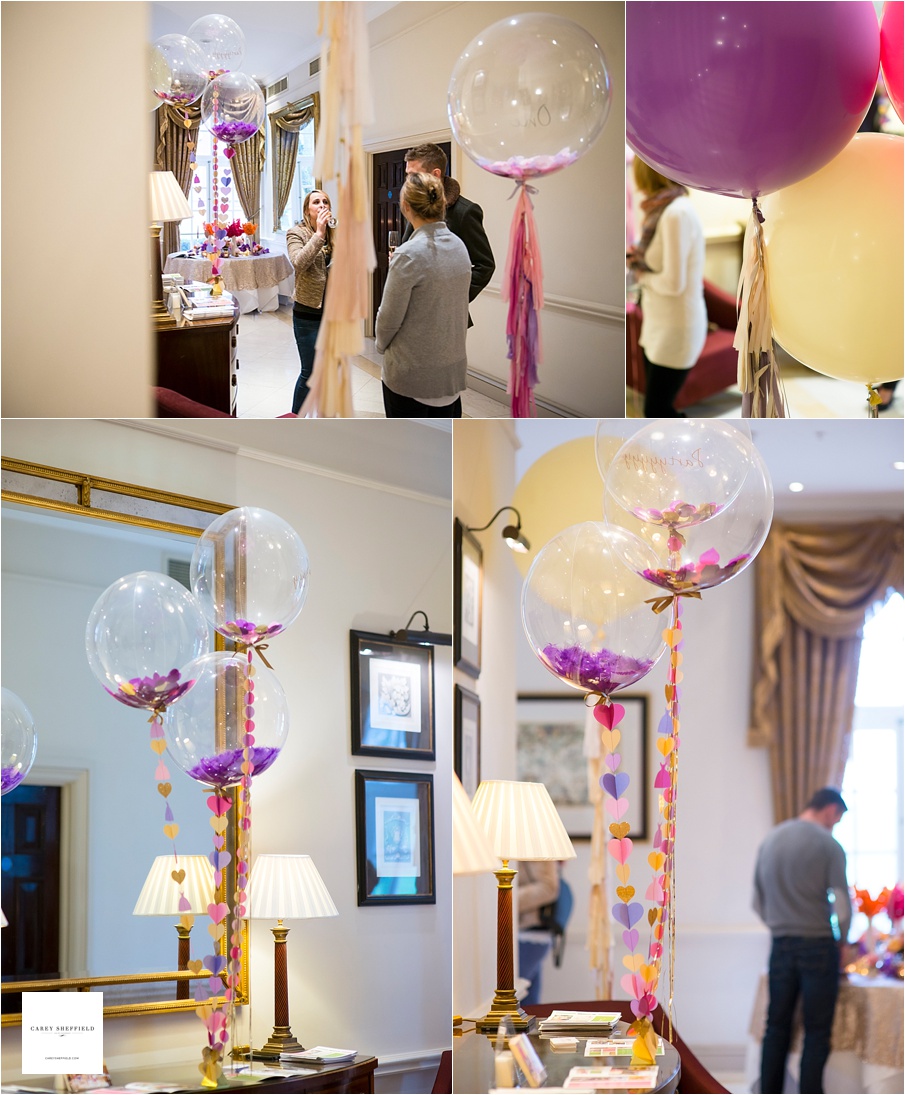 On the turn of a corner you were actually bowled over by the eye popping colour of the flowers by Blomster Designs..orange, pink and purple, a vibrant & truly extravagant display of blooms with the Meijer Roses & Vanda Orchid and candles all about, quite stunning.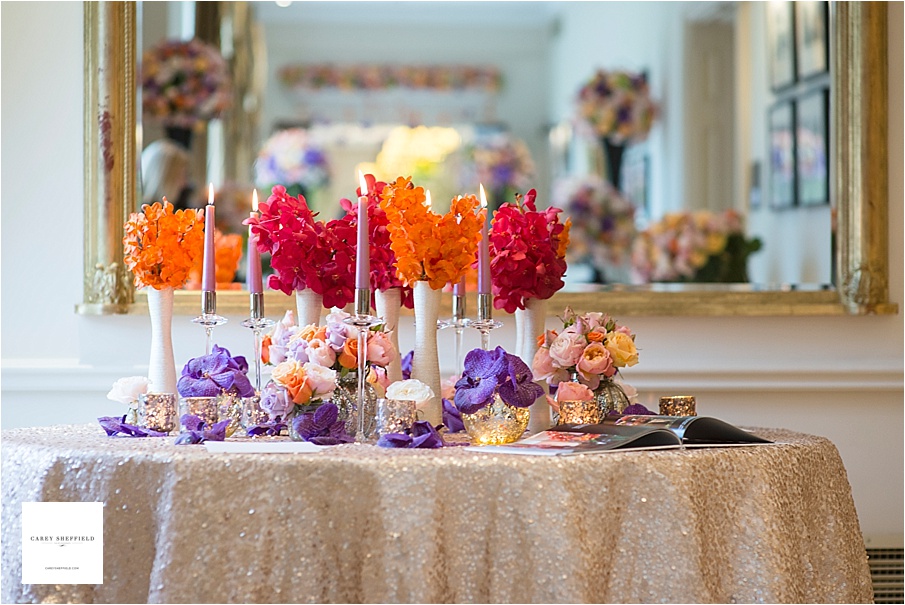 Through the flower laden archway into another gorgeous area with casual seating arrangements supplied by Velvet Living..another new supplier to me but one I will certainly be looking at, you were greeted with another magical display of flowers and then your attention was grabbed wholeheartedly by the most heavenly gown displayed at the end of the room..almost, in majestic feathery fashion, upon her thrown, the Suzie Turner bespoke Wedding Gown stood, daring you to reach out and touch, I didn't I promise but I so wanted to..it was beautiful, in awe.
A loud explosion of rhythmic music and the dazzle of well executed lights grabbed my attention though the grand double doors into the wedding room..an out of this world light light show greeted me..along with a very loud band!  As a photographer this is heaven..those lights were perfect, first dance wonderfulness!  I shall be encouraging all of my couples to book them in!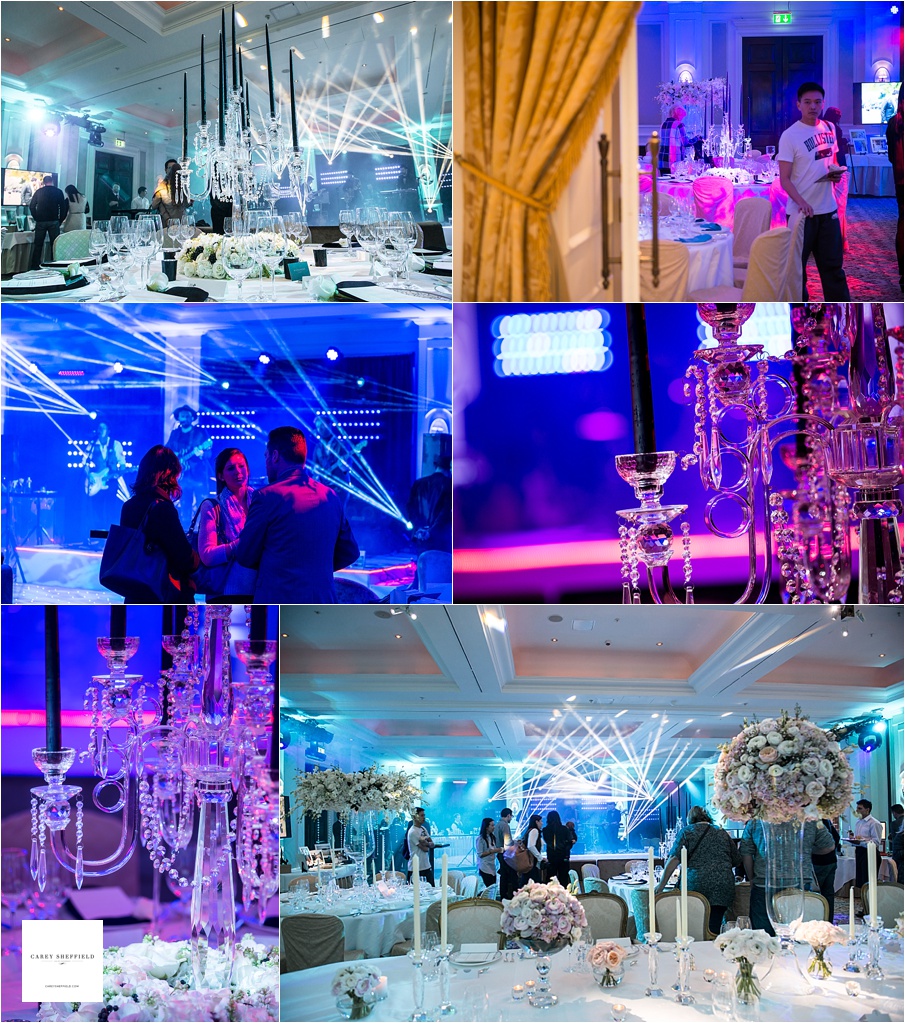 Elizabeth Solaru from the wonderful Cake Emporium was also showcasing, another industry favourite of mine, a quick hello because everyone wanted to talk to her but her display was mouthwateringly lovely, no surprise, her majestic cakes look almost too good to eat and sad that I am doing 'dry jan' as her Baileys cake pops were calling out my name!
More flowers greeted you in the room..beautiful and grand displays , this time by Wildabout Flowers.
A few stand out exhibitors for me and those who I will certainly be adding to my little black book..Design in Scent..an exclusive house that crafts couture scent experiences..something overlooked by brides and event organisers but as shown to me by Paula Rooney, definitely something to be considered to add the important ambiance to any affair.
Cutture bespoke event stationers..their work speaks for itself and I loved their designs.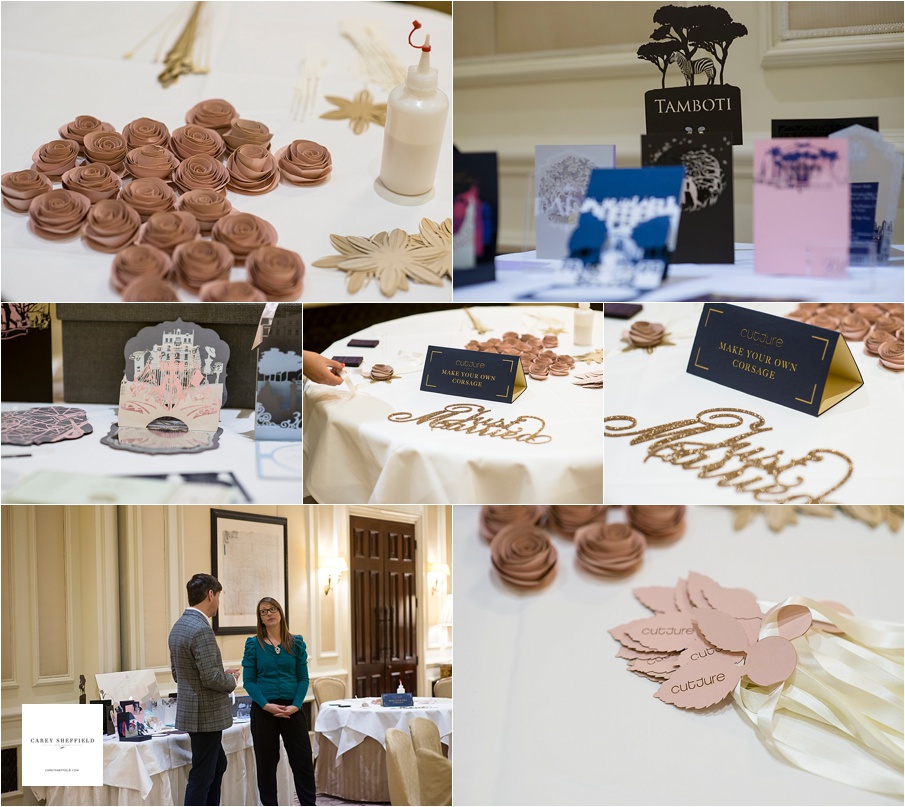 Eight Ray Music..bands, musicians, soloists in every style of music.
The stunning light show, which is so important for your wedding and event and can change the atmosphere in any room..Greg Fitzgerald at 3 point lighting.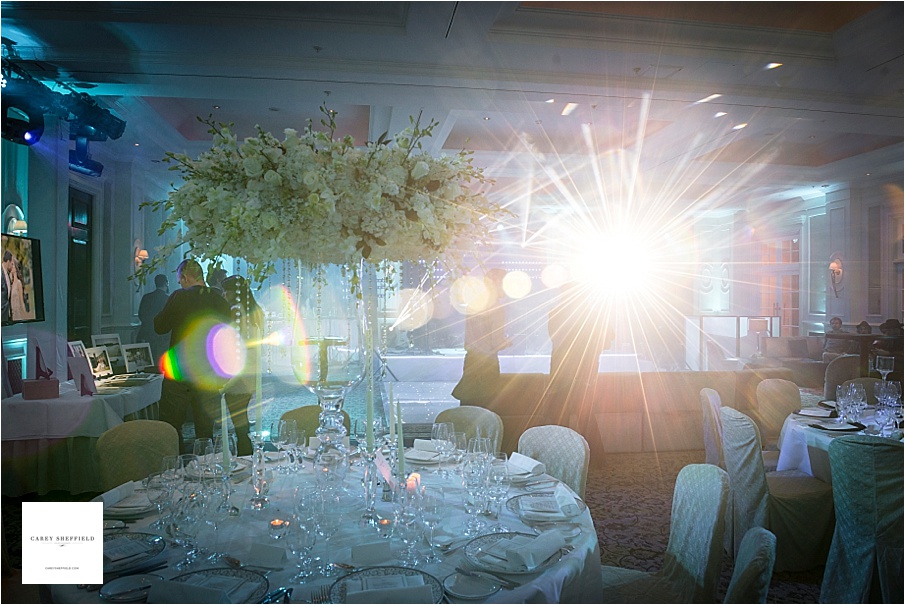 I also met Jane from Planned For Perfection , a UK and International wedding planner who was with her American client discussion flowers with Paula Rooney for their Four Seasons wedding, I look forward to meeting up with her again and talking all things wedding.
Another familiar face greeted on arrival and departure armed with the lovely sounds of his guitar, that of Jak Chantler..Jak is a freelance musician and a regular at Fours Seasons, you'll see him at their Cocktail nights..I almost didn't recognise him without his cool hat!
And finally just another word about Four Seasons Hampshire.  A lovely experience..we were sadly only there for a couple of hours but in that time I was very impressed with the staff, how they were dressed and attended their guests, the decor, the lighting and facilities second to none and I have been very fortunate to visit some wonderful establishments.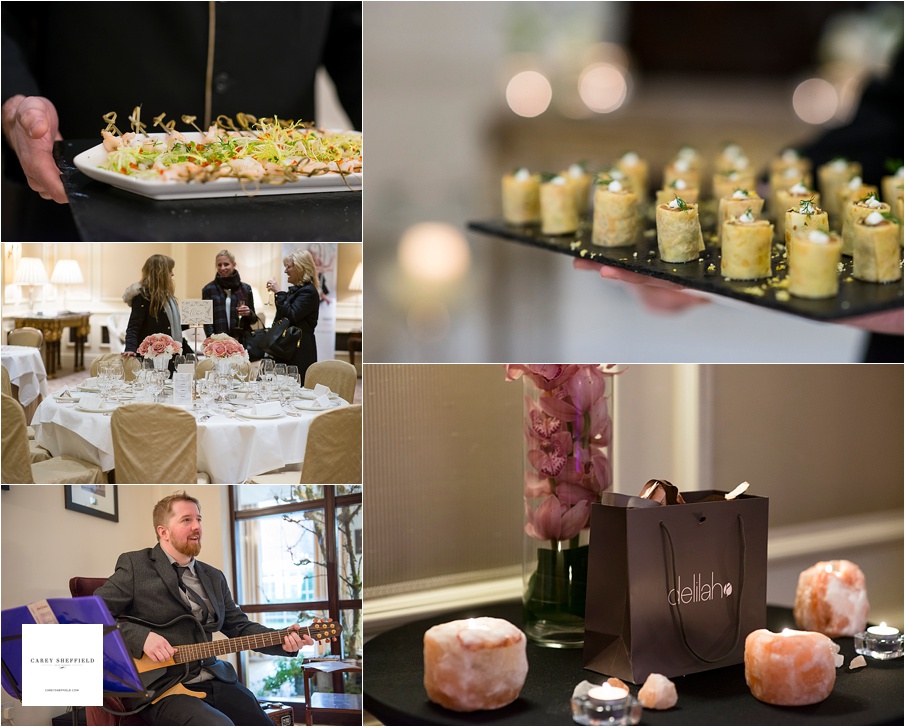 The food, from the canapés being served to brides to the fab lunch we had in the bistro..oh and the dessert table!  I have rebooked to go back for dinner and I cant wait..this may be my new go to when meeting brides, please do consider and visit if you are planning your wedding, weekend away, dinner out or Sunday family lunch.  They have considered everything and everyone and I imagine a wedding here to be incredible..did I mention the walled garden..beautiful clock tower..dove cote…
Carey
xx