This week I had the delightful opportunity to visit Sinclair Sellars of Maids to Measure, the Award winning, super stylish, bridesmaid gown design service who are making waves within the wedding industry.
Sinclair, one half of a dynamic sister act, alongside her equally gorgeous sister, India.  These creative and clever girls have revolutionised the purchase of the bridesmaid gown.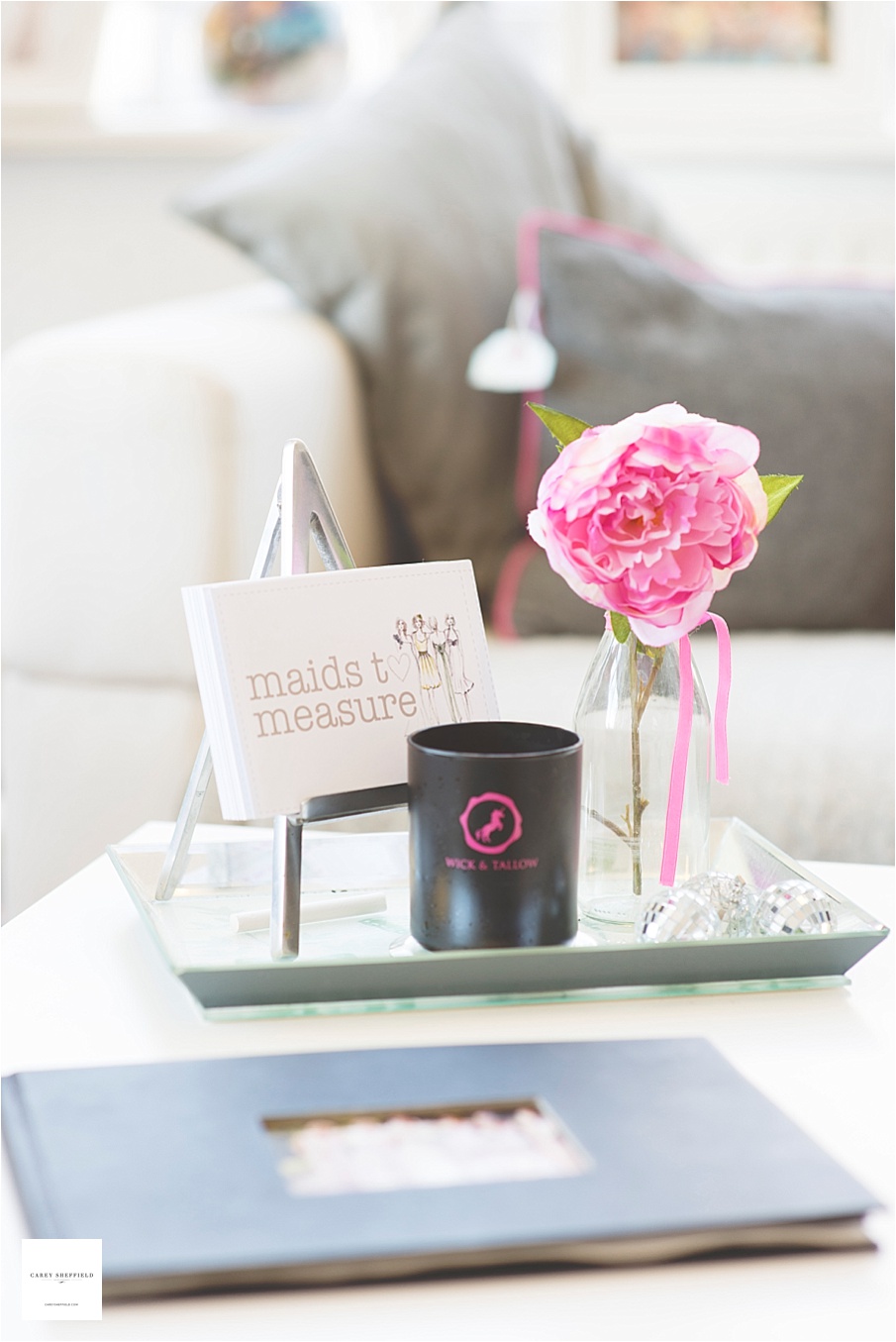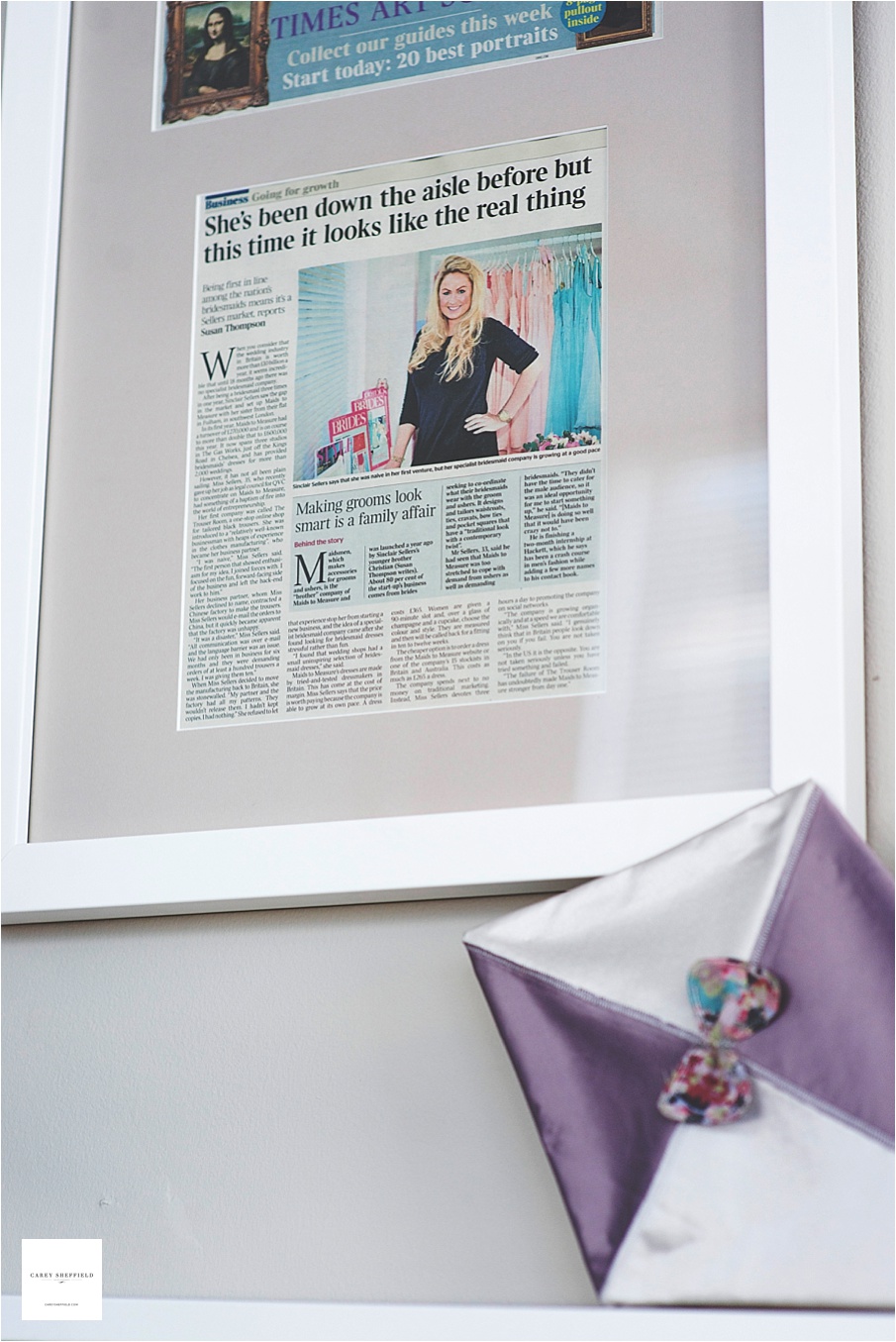 Their wonderful studio space, nestled amongst other creative businesses, just a stones throw from Fulham and the fashionable Kings Road is full of gorgeous gowns, inspiration, comfy sofas, champagne, cake and quirky accessories that will make any Bride and her maids feel absolutely delighted.
Lets talk about being bridesmaid…
Back in my day (I am becoming a relic) bridesmaids wore chintz, florals, and huge puffed sleeves, full skirts and resembled Little Bo Peep..think Four Weddings and a Funeral. It was a horror story.
Brides are a bit kinder nowadays but between the taste of their Maids, the different sizes of their Maids and their budget for gowns, deciding on what everyone will wear is still very difficult and in some cases can cause the breakup of friendships!
So where to go?  The High St tends to be the first Port of call and there are some options available but they often don't inspire and the ones that do can cost a fortune.  Then people trawl the internet which largely results in disappointment because what arrives will not look like the picture and the fabric and fit can be way off.
Maids To Measure offer many solutions..buy online or take the time to visit the studio, have champagne, eat cake try on some gowns..this to me sounds like the perfect opportunity to enjoy a great experience with your bridesmaids.
So, what have Maids to Measure designed that you can't buy on the High St or the internet.  Interchangeable choice..thats right, you can have that top, with that bottom, chooses a colour, choose a fit..this is revolutionary.  So you don't have to have bridesmaids all looking the same but they can certainly be complimentary to each other and to your vision of your wedding day.
That means you will all stay friends and you will all look gorgeous and at a price that is bespoke but reasonable..thats what we all want right?
Gorgeous girls, celebrity weddings, already so many happy clients have shared their thoughts and images from their own weddings..see the link to the lovely gallery here: http://www.maidstomeasure.com/gallery/
I am really pleased for Sinclair & India, their vision has been a incredible.  Born out of frustration from their own experiences they have created a brand that is instantly charming, the darling of the industry and destined to be a Nationwide if not International success and to top it all, they are nice people, genuine, young, enthusiastic..the sort you want to hang out with..a great place to start your wedding story, with your bunch of favourite girls who will remember your wedding day with fond memories of their beautiful bridesmaid gown…that they definitely will want to wear again.
Office Hours
Mon – Fri: 10am – 4pm
Studio Hours
Tues – Sunday: 10am – 6pm
Strictly by appointment.
The Cranewell Building, The Gasworks, 2 Michael Road, London, SW6 2AD (nearest tube Fulham Broadway)